The key to good mental health is similar to good physical health: monitoring and management.  We can learn to recognise and monitor our own thoughts, feelings and behaviours, and then use skills to manage ourselves and make effective changes as required.
You can study The Decider Skills for Self Help in your own time, at any time - about 20 hours of study at your own pace. 
The Decider Skills are a stand-alone intervention to enable you to make positive changes in your life. 
They will also give you a firm foundation if you decide to start individual  therapy. The Decider Skills complement all therapy approaches. 
The Decider Skills enable you to:
Face common life challenges
Make sense of problems
Make positive changes in how you think and react
Tolerate distress
Be more mindful
Manage emotions including anxiety, low mood, anger and stress
Improve communication and relationships
Increase resilience and wellbeing
The Decider Skills for Self Help Online Course

The Course includes:

The Decider Skills for Self Help book
3 months course access
Introduction to The Decider Skills & CBT
The FIZZ
All 32 therapeutic Skills
Each skill includes:

Introduction
Teaching
Real life examples
Videos
Exercises and reflections

£195.00

After completion of the course you may also access:

Assessment & Certificate of Completion
The Decider Skills webapp
The Decider Skills animated videos
1 individual follow up session with a therapist (via telephone or video call)

 

Organisations can contact us for bulk order discounts 
The individual follow up session will be an opportunity for you to ask any questions you have about The Decider Skills, with the focus on how you can use the skills in your own life.
"The course is helping me. I feel in a better place with it."  SM  (September 2020)
The Decider Skills for Self Help for NHS Trusts / Organisations / Charities
The Decider Skills for Self Help online course also available at discounted rate for organisations purchasing for multiple clients. Please contact us for details
See the Online Solutions page for implementation guidance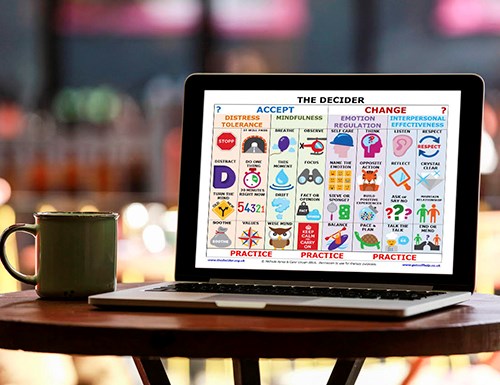 I was lucky enough to have received the 32 skills through my psychiatric nurse last year. This course has genuinely changed my life and I use the principles every single day. 2 decades of mental health issues and this course was the turning point for me. I was given the tools to identify why I acted and felt the way I did. I now plan to continually improve my skills and use them with my two young children. Thank you so much for developing this amazing and genuinely life saving set of skills.   

Kim from Lothian
More about The Decider Skills here 
The Decider Skills for Self Help book available from Amazon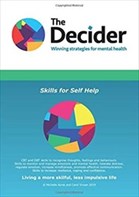 Download our IOS, Android and Windows STOPP app from your app store.
The Decider 32 Skills
Web app for service users
Web app login
The Decider 12 Life Skills
Web app for service users
Web app login